Do you imagine your outdoor oasis infused with the soothing sound of water trickling and the tranquil sight of shimmering ripples dancing in the sunlight? A DIY fountain can bring the gentle melody of flowing water to your garden or patio, transforming it into a sanctuary of calm and rejuvenation.
Let your creativity flow as you select the perfect container, choose the ideal water element, and embellish your fountain with decorative accents that reflect your style. In this article, we'll explore a curated collection of DIY fountain ideas, each with its unique charm and elegance, to help you find the perfect inspiration for your outdoor space.\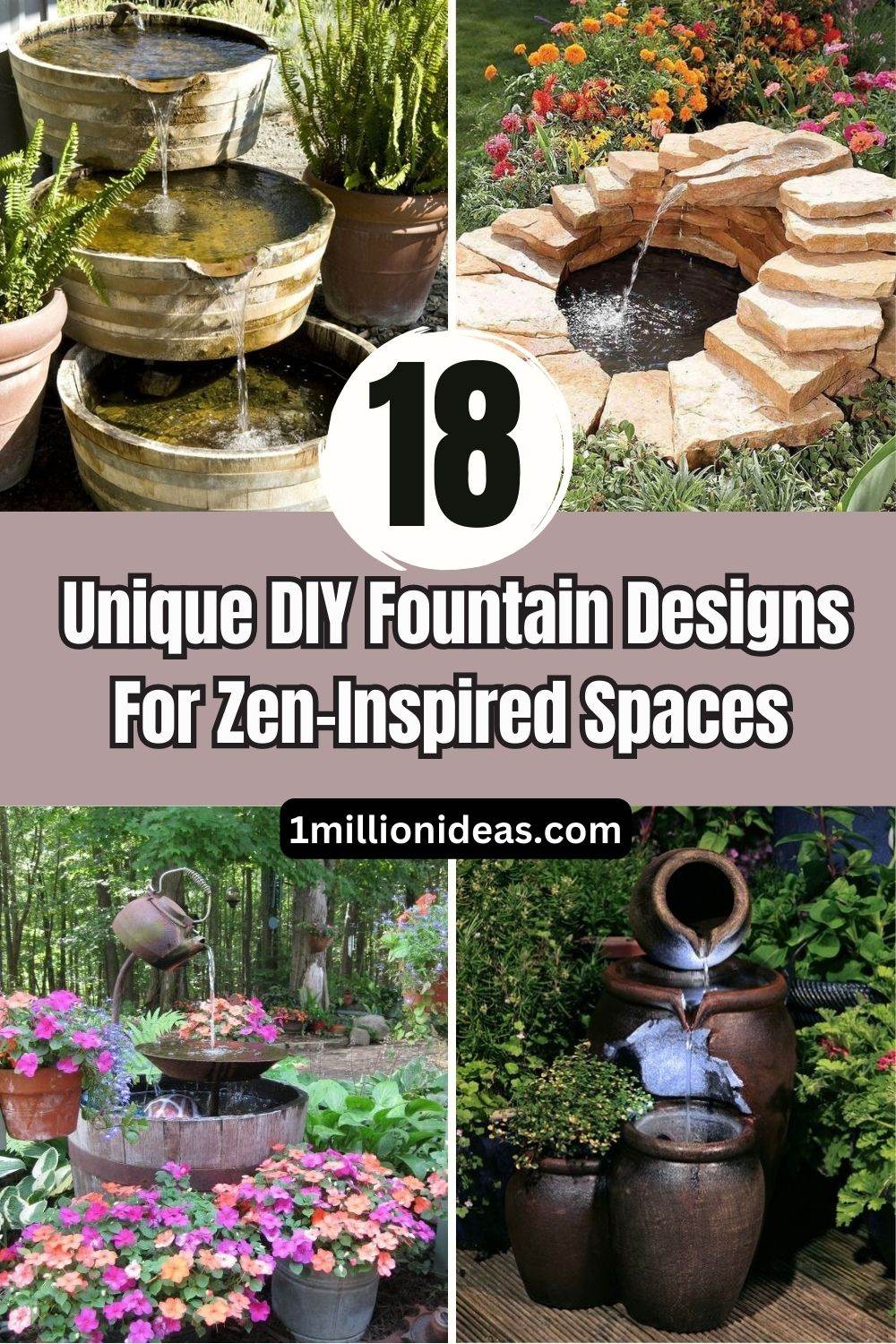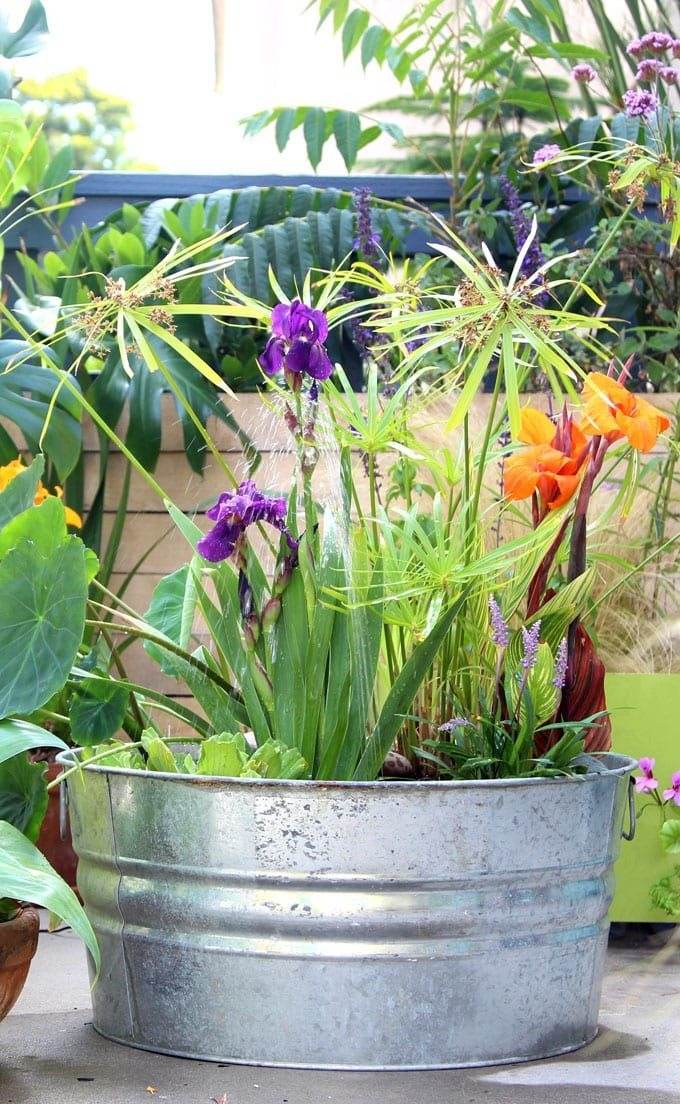 You can make a DIY fountain using some old or new buckets, a faucet, a water pump, and some tubing to add some rustic charm and soothing water sounds to your garden or patio. After finishing, you can enjoy water flowing from the faucet and cascading down through the buckets.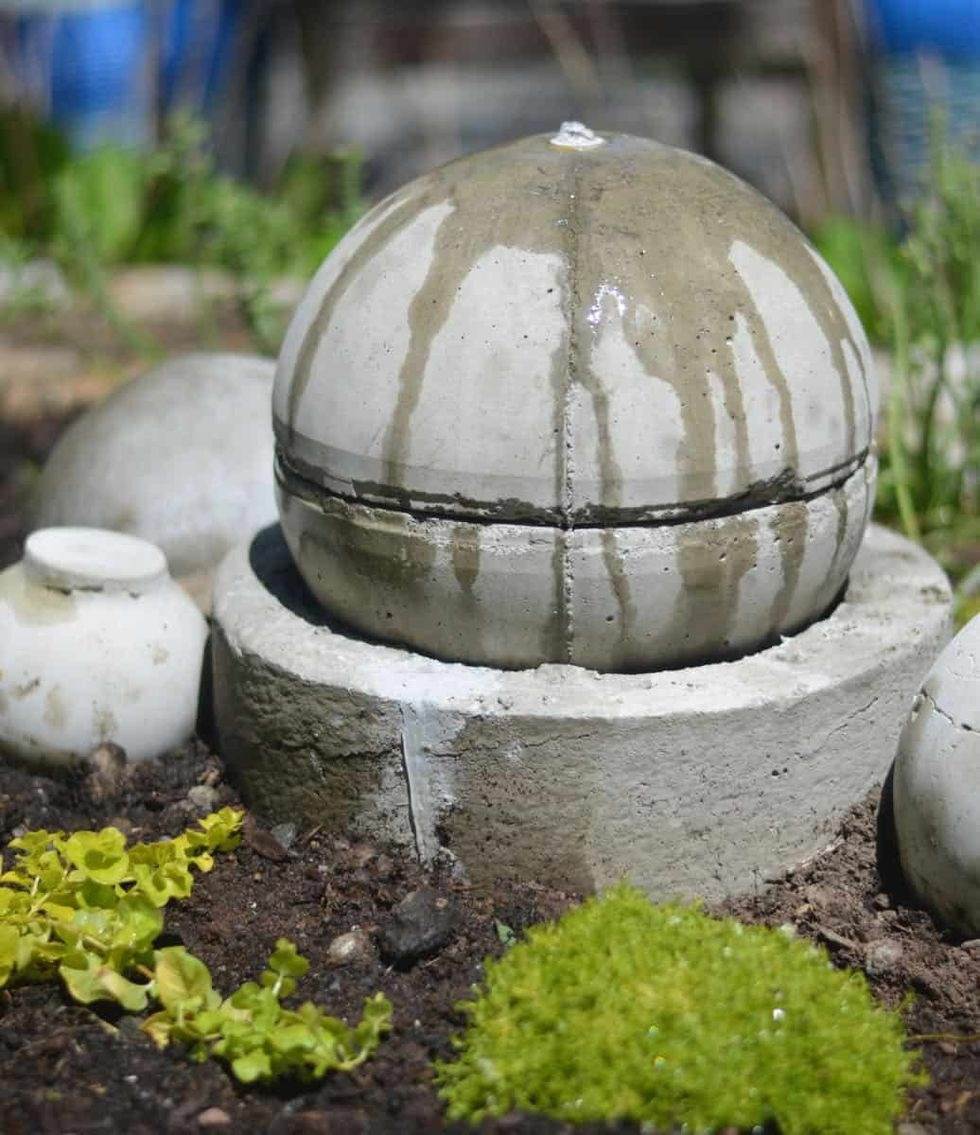 An old globe is a perfect base for a tasteful round water feature. To make it a focal point in the garden, you can decorate it with some plants or rocks.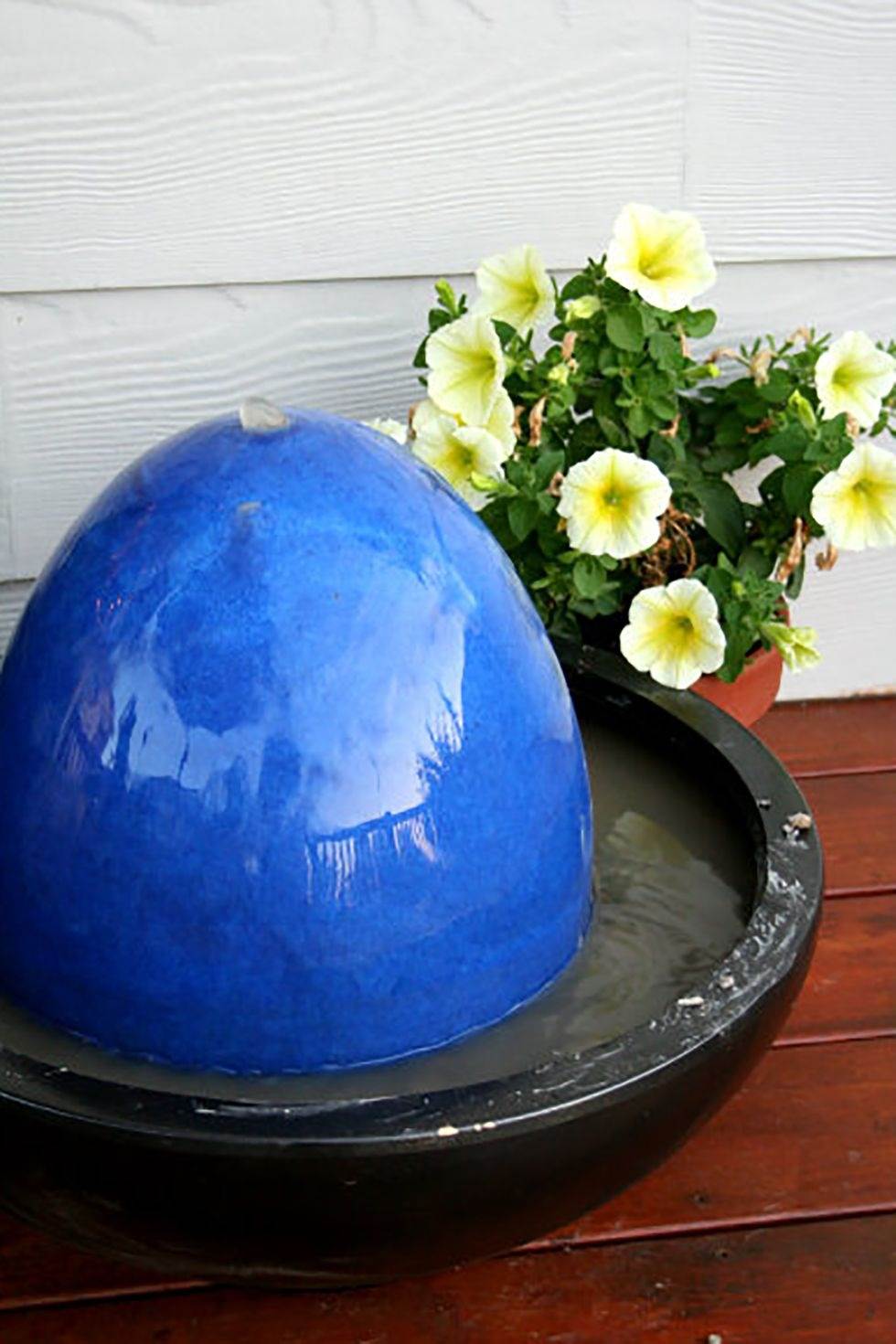 A DIY tiny egg fountain is a cute and easy way to add some zen and tranquillity to your space. You can make one using a few simple materials and tools, such as an egg, a small water pump, a bowl, and some pebbles.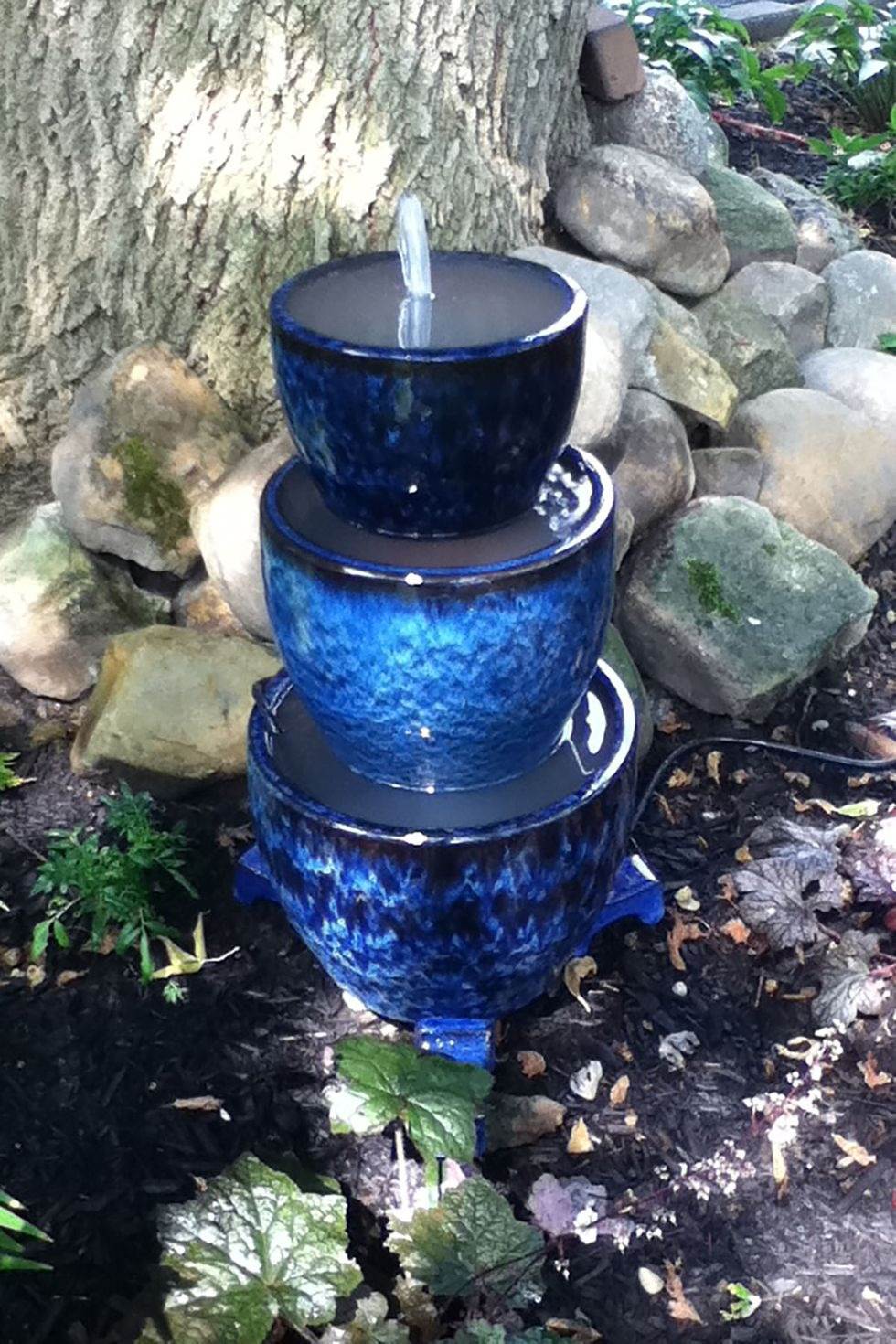 A blue planters waterfall can brighten your garden with its vibrant color. After drilling holes in the bottom of each planter, attach the tubing to the water pump and thread it through the holes in the planters. The water pump should be placed inside the lowest planter, which will act as the reservoir for the waterfall.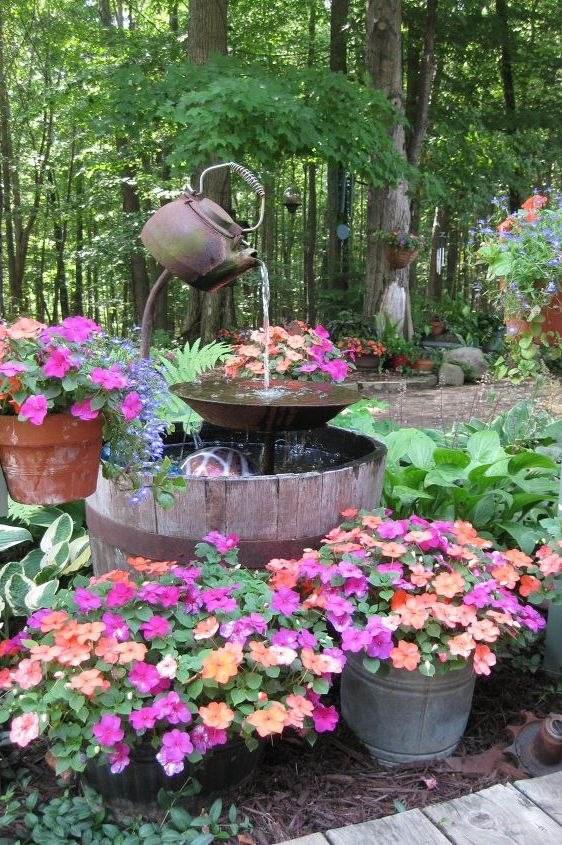 You can make a teapot fountain using an old or new teapot, a whiskey barrel, a gold pan, a fountain pump, and some tubing. The tubing should run through the tee, the flange, and the hole in the teapot.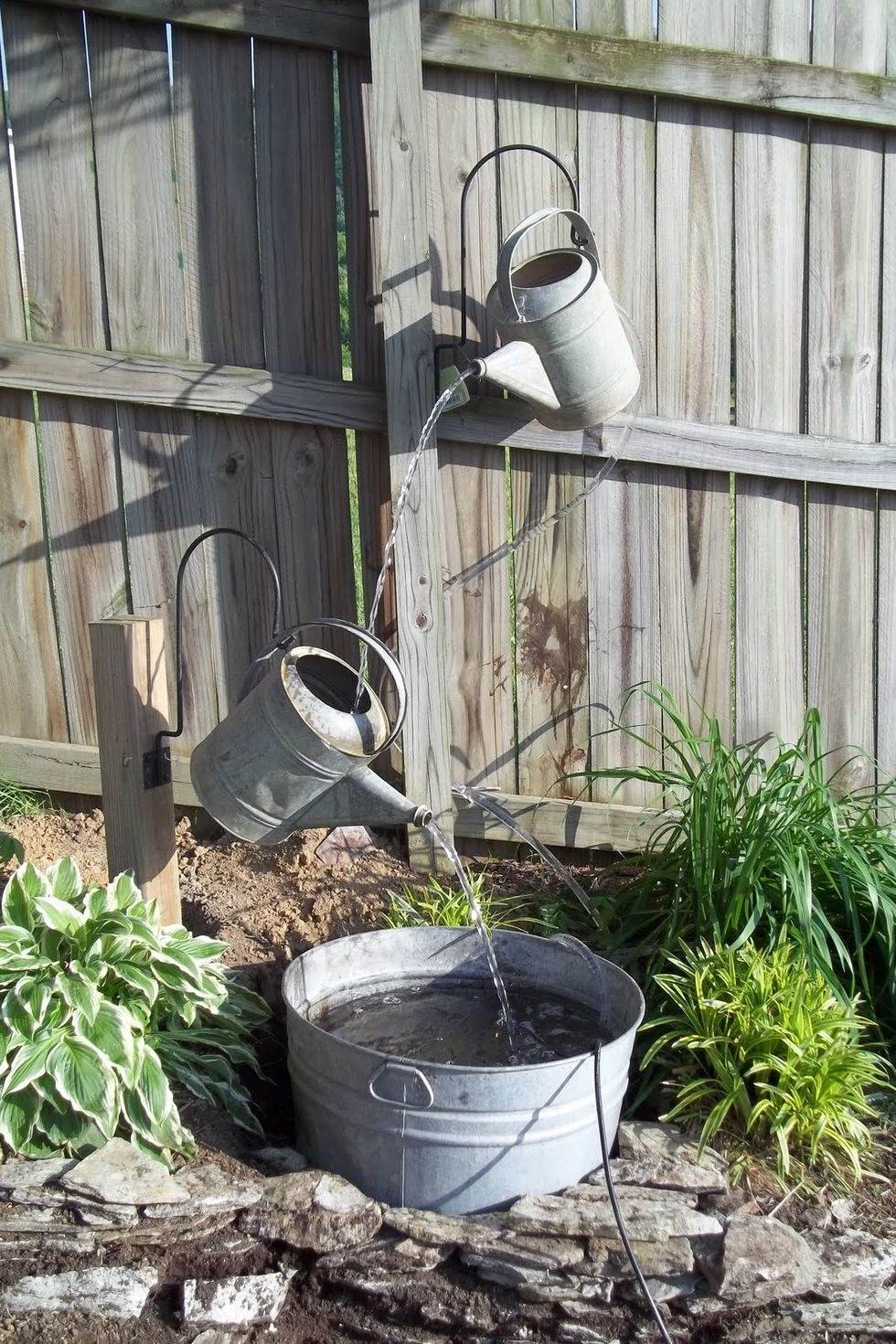 This stylish fountain is the ideal addition to a country garden. It was created from recycled watering cans and a trash bin.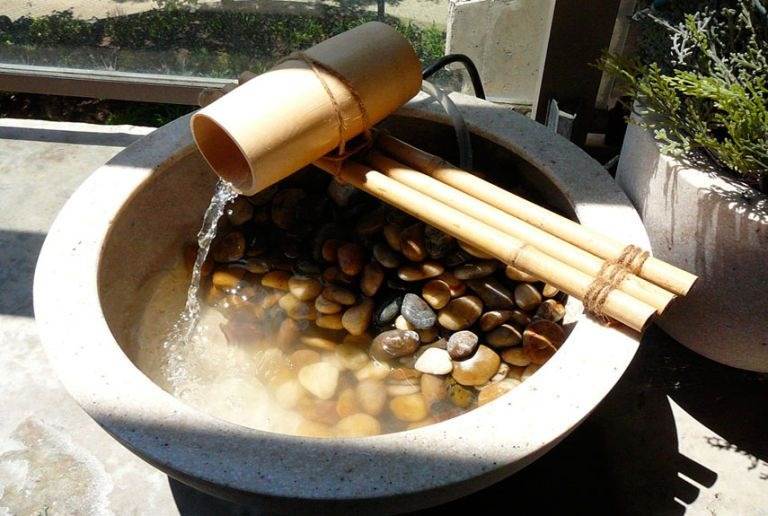 Bamboo to make a DIY fountain should be thick enough to fit the tubing inside. You can use any type of bamboo, as long as it is sturdy and waterproof.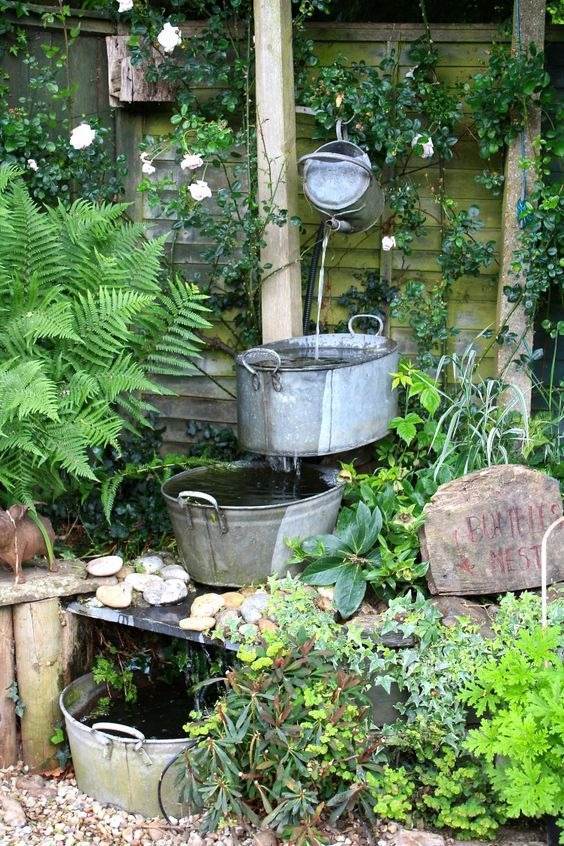 Old metal tubs that do not suit your bathroom style anymore can be transformed into a fountain standing out in the garden. To make a DIY one, you need to drill holes in the bottom of each tub, except for the lowest one.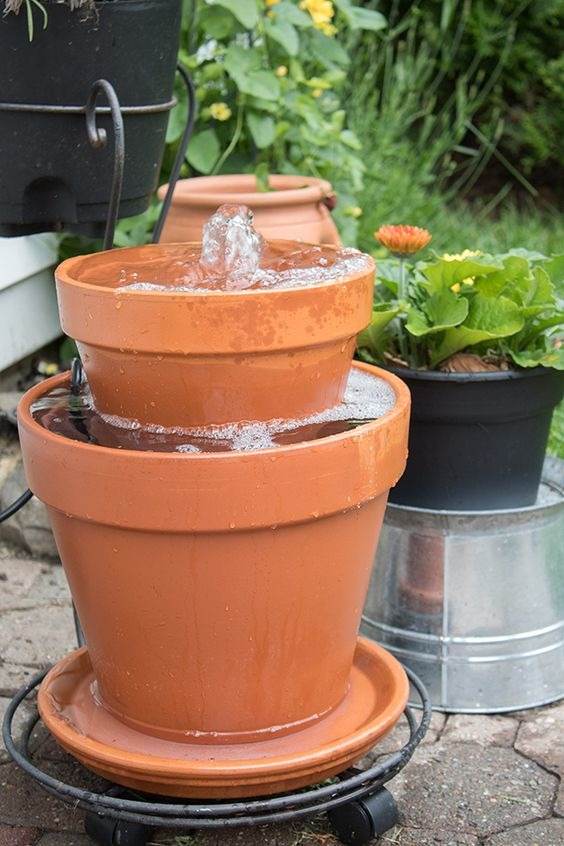 To make a DIY fountain, you need to find some plant pots that fit inside each other. You can use any number of pots, depending on how tall you want your fountain to be.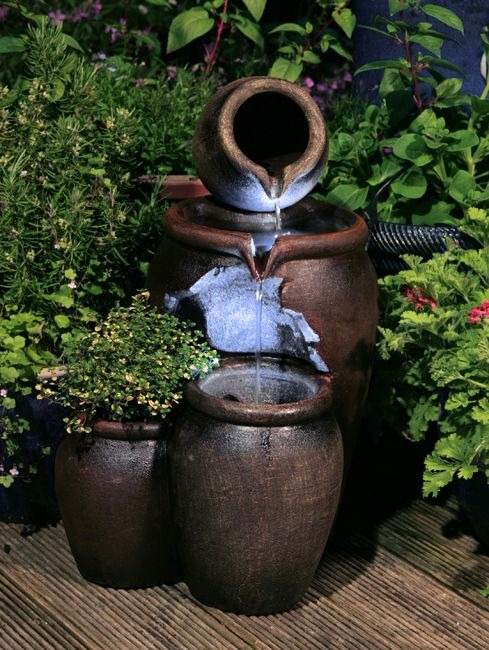 This fountain has the pots stacked on top of each other. You can plant some flowers or place pebbles around the fountain to add a vibe of zen.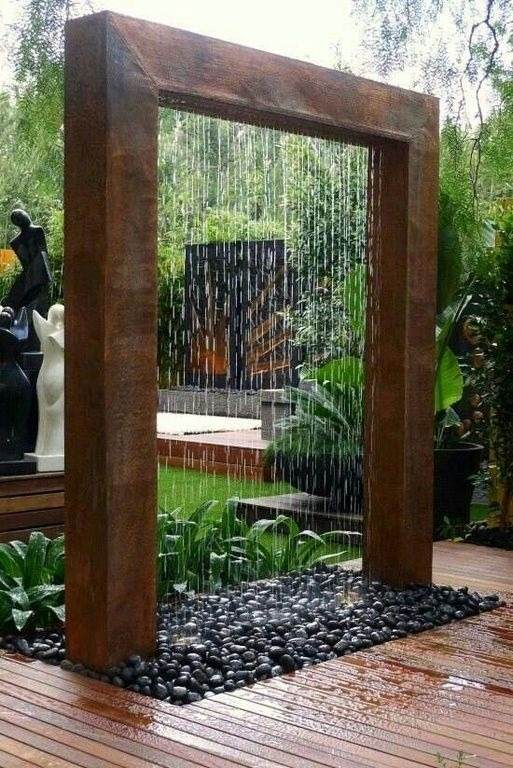 This masterpiece is really outside the readymade box. Ideal locations for this fountain can be on a stone patio, on a porch, backyard deck, or even on an apartment balcony.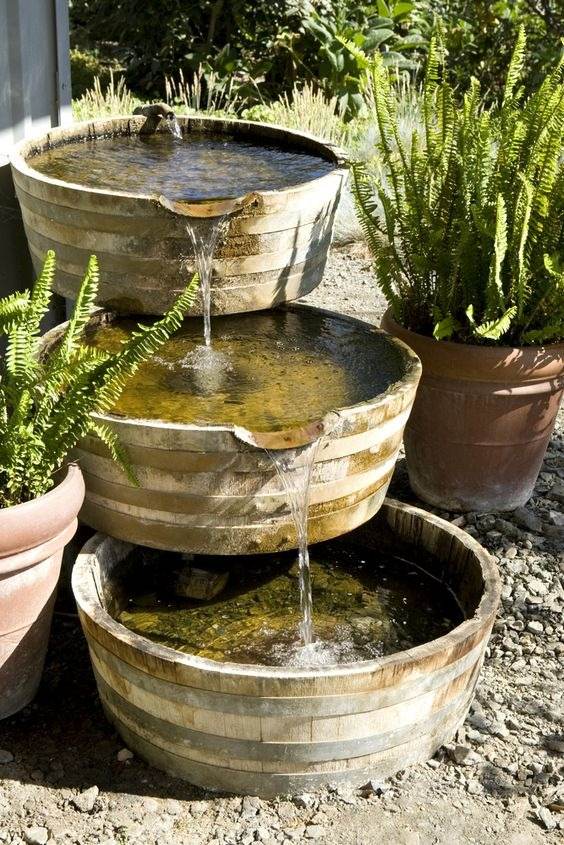 Oak barrels should be large enough to hold enough water for your fountain. Besides a fountain head, you can use a watering can, a hose nozzle, or a faucet instead for your fountain.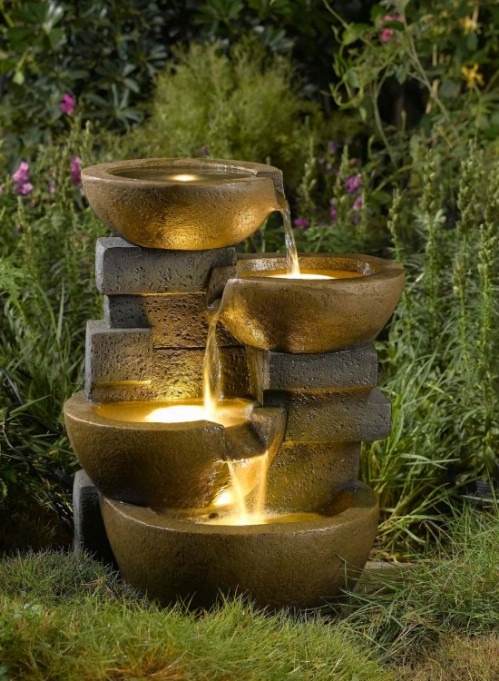 This wonder is made from polyresin and fiberglass, making it suitable for both indoor and outdoor spaces. In addition, you can stall some LED lights to bring the sensory experience to a whole level.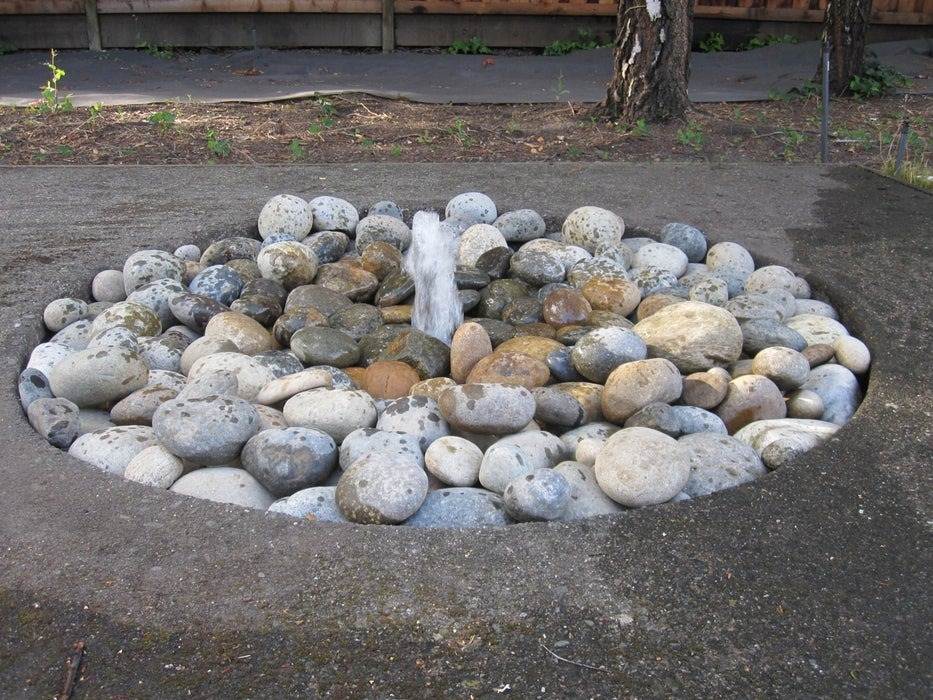 Without a visible reservoir, this fountain still looks simple and whimsical. It really blends well with the surrounding landscape.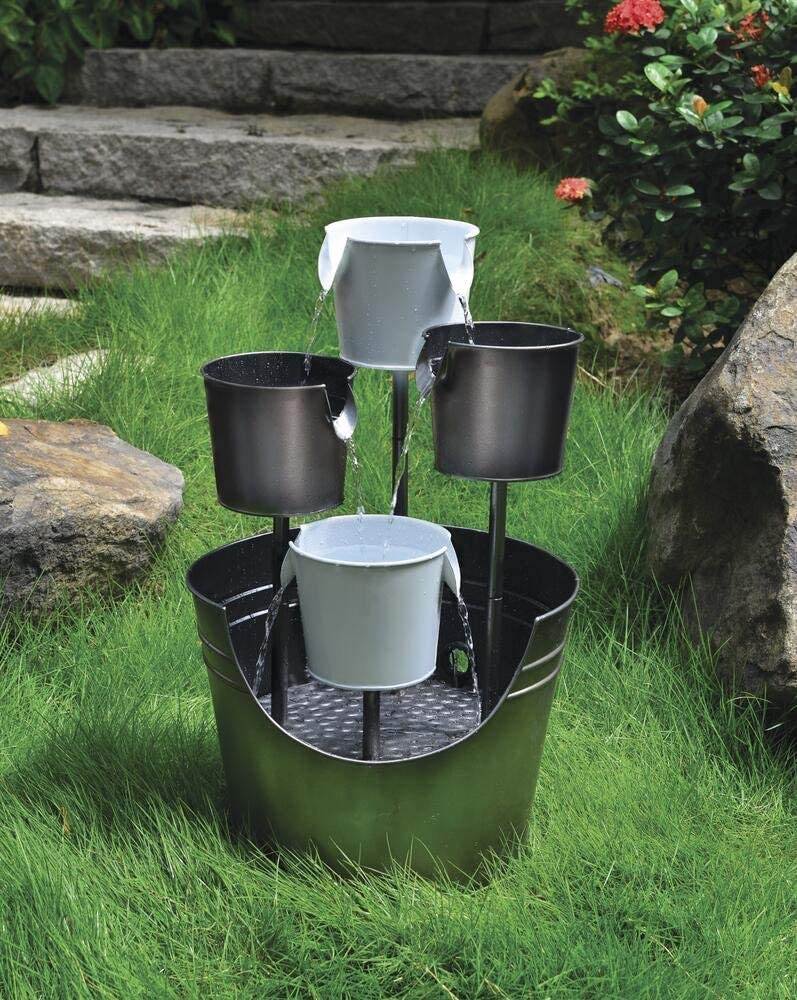 You just need to stack buckets together to have an instant fountain. You can leave them natural, or spray paint the bucket and the lid with your desired color.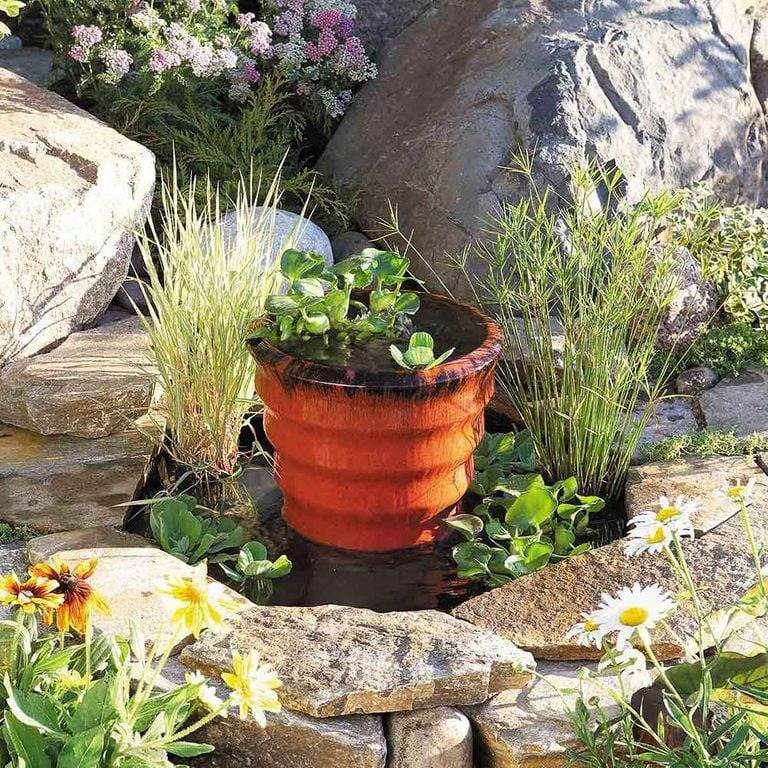 You can build this tiny, endearing, low-cost fountain and pond in a single day with readily available materials. This DIY water feature brightens up your yard and offers a comfortable spot for you to rest and watch the nearby birds enjoy a drink.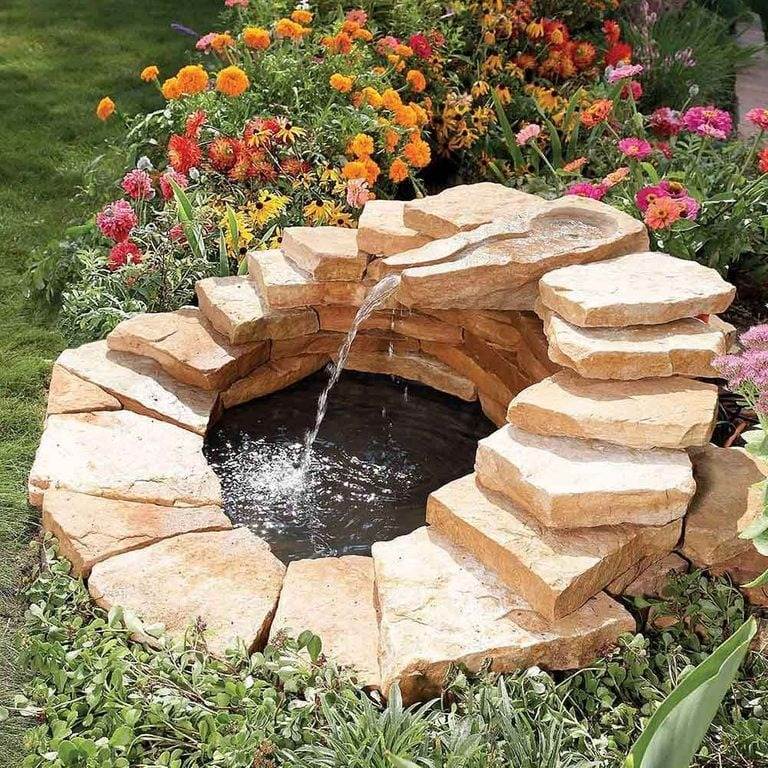 Using simple power and hand tools, you can make a stone-lined garden pond and then carve a waterfall out of a stone block. Even beginners can nail it.
This tiny fountain is the ideal size for a patio or tiny backyard. It can be built in a weekend using basic building materials and concrete.
From natural stone to repurposed containers, there's a wealth of options that cater to your preferences and budgets. If you're ready to embark on this DIY journey, let's share your experiences, tips, and even challenges in the comments below.